How the National Disaster Search Dog Foundation saves lives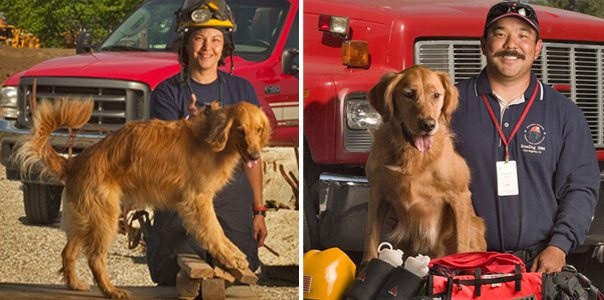 Cody was an uncontrollable puppy nobody wanted. But now, the spirited Golden Retriever is one of the most highly trained search dogs in the country. This is his amazing tale, the story of a rescued dog who is rescuing people. The nine-year-old Golden who nearly lost his life in a Wisconsin animal shelter is now part of an elite group of emergency workers specially trained to respond to disasters and find people buried alive. Cody's tale, however, would undoubtedly have had a different and tragic ending if an organization called the National Disaster Search Dog Foundation (SDF), in Ventura County, Calif., hadn't stepped in and taught him how to use his boundless energy to save lives.
"He is the luckiest dog in the world," says handler Linda D'Orsi, a captain with the Chula Vista, Calif., fire department. "It could have been the end for him in the shelter in Wisconsin." Cody lived with six different families before his first birthday. Each brought him back to the shelter because he had too much energy—they couldn't control him. "He was a throwaway dog," D'Orsi says. "He probably would have been put to sleep if someone hadn't seen his potential."
That someone was Dawn Christenson, a volunteer with Golden Retriever Rescue of Wisconsin (GRROW). She understood that Cody's endless energy and strong play drive made him an excellent candidate for search-and-rescue work. "Cody was not your average Golden," she says. "He was a Golden who needed a job." But where would this feisty dog find one? The answer to that question was provided by SDF, which works exclusively with rescued dogs and trains them to find people who are lost or buried alive. Christenson contacted the organization about Cody, and her call saved his life. "The day after Dawn's call, Cody was on a plane heading to the foundation's training facility in Gilroy, Calif.," explains D'Orsi.
Today, Cody and D'Orsi are one of 236 canine search-and-rescue teams in the country with advanced certification from the Federal Emergency Management Agency (FEMA). This certification, the pinnacle achievement for canine search teams, means that Cody and D'Orsi can respond to any disaster. Not a bad feat for a dog nobody wanted.
Tales like Cody's aren't unusual in SDF's 14-year history. Since retired schoolteacher Wilma Melville founded the organization in 1996, she and her staff have worked with scores of dogs from shelters and breed rescue groups, turning them into highly trained search dogs. They're dogs like Andy, another spirited Golden Retriever rescued by the same group that saved Cody. This energetic canine is trained to rescue people buried in the rubble of collapsed buildings—fitting and bittersweet, because Andy is named in honor of 25-year-old Andrea Haberman, a young woman killed during the 9/11 terrorist attack on the World Trade Center.
"What a tremendous honor it is for us to have Andy the dog named in honor of our Andrea," says Andrea's dad, Gordon Haberman of West Bend, Wis. "It's one of the few positive things that I can point to out of this whole tragedy." Haberman discovered the vital role search dogs play during disasters when he and his family scoured hospitals in New York City "hoping against hope" that Andrea was alive.
"We were standing outside St. Vincent's Hospital," he recalls. "It was eerily quiet; there were no injured coming in. All of a sudden, we heard sirens coming up the street. Our heads snapped, hoping it was someone coming out of the Trade Center." The sirens, however, came from a truck carrying some of the dogs who had been searching for survivors at Ground Zero.
"Some of the dogs were injured," Haberman says. "Many had burns on the pads of their feet. These dogs had searched tirelessly and without regard for their own safety."