Behind The Scenes With Harry Potter
Appleseeds
 magazine (May/June 2012)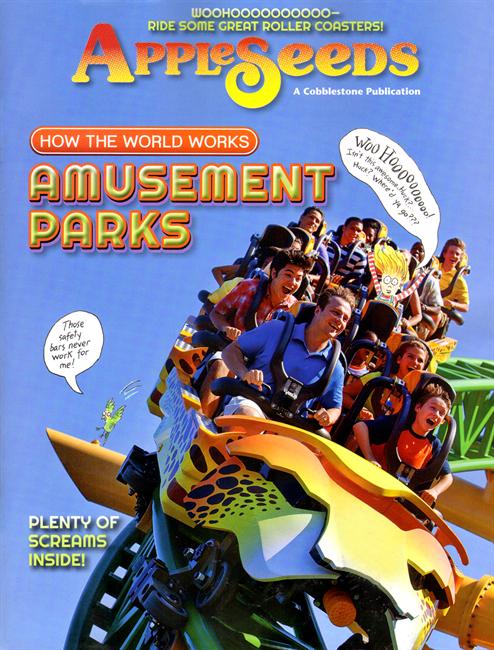 No magical spell or Nimbus 2000 flying broom handy? Don't worry. You can visit the enchanted world of Harry Potter
The Wizarding World of Harry Potter, based on the books by J. K. Rowling, opened at Universal's Island of Adventure in Orlando, Florida, in June 2010. The theme park brings the magic of the Harry Potter books and movies to life. Now, Muggles — nonmagical folks like you and me — can roam the hallways of Hogwarts Castle, grab a frothy Butterbeer at the Three Broomsticks restaurant, and narrowly escape the chilly clutches of the dark and dangerous Dementors.
The "wizards" at Universal Studios spent five years designing this 20-acre attraction. It took three years to build this re-creation of the young wizard's world — from the towering Hogwarts School of Witchcraft and Wizardry to the cobblestone streets of Hogsmeade Village. The "magic potion" that created this wondrous world is a mixture of modern-day technology and a supernatural attention to the details from Rowling's books.
In the window of Zonko's joke shop, for example, a game of wizard's chess comes to life. Moaning Myrtle haunts the public restroom. And a red book magically puts itself back on the shelf in Professor Dumbledore's office.
The shops in Hogsmeade are small by design because that's how they're described in the books. The cramped stores sell such enchanted goods as chocolate frogs (Honeydukes), golden snitches (Dervish and Banges), and, of course, magical wands (Ollivanders). Street vendors also sell pumpkin juice and Butterbeer from wooden carts.
The park's recipe for Butterbeer is a closely guarded secret. Even J. K. Rowling doesn't know what's in the butterscotch-flavored elixir, which is "charmed" to give you a foamy mustache until the last drop. The theme park sold its one-millionth glass of Butterbeer in December 2010 — six months after The Wizarding World of Harry Potter opened.
The park's most spellbinding attraction is Harry Potter and the Forbidden Journey.This state-of-the-art ride combines robotic technology with cutting-edge filmmaking techniques. You spend at least an hour "exploring" the dimly lit Hogwarts Castle and see talking pictures of famous wizards, Professor Dumbledore's office, the Gryffindor common room, the sorting hat, and hundreds of floating candles in the Room of Requirement. Harry, Ron, and Hermione greet you in the Defense Against the Dark Arts classroom and ask you to join them on a little adventure. This is when the real magic begins:
During a four-minute "forbidden journey," you feel like you're soaring over Hogwarts with Harry and his friends. A robotic arm spins, tilts, and twirls you past live-action scenes of a fire-breathing dragon, evil Dementors, and the Whomping Willow. You also zoom through a Quidditch match and even come face-to-face with the giant spider, Aragog.
As one ten-year-old Muggle from Kansas said, "It was awesome."