Welcome to my Web Site!
My name is Lisa Wade McCormick and I'm an award-winning journalist and children's book author. I have more than 20-years experience as a newspaper reporter and investigative television producer. I've also written sixteen children's books for Scholastic, Capstone Press and Rosen Publishing. I'm marketing my chapter book,
"Typo The News Hound,"
too. I now freelance full time and my recent stories have appeared in
The Kansas City Star
,
Volleyball magazine
,
Bark magazine
, Dogs For Kids magazine,
Appleseeds magazine
, and the consumer news Web site,
ConsumerAffairs.com
.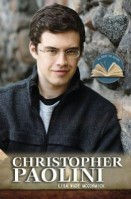 Check out my latest release, a biography on Christopher Paolini

This highly entertaining and enlightening biography features the story of Christopher Paolini, whom Guinness World Records has recognized as the "Youngest Author of a Best-selling Book Series." Paolini wrote his debut novel, Eragon, about a boy and his adventures with a telepathic dragon when he was just fifteen. The author has taken the publishing world by storm with his four-book Inheritance Cycle. Fans of science fiction and fantasy will enjoy learning the fascinating backstory of the books, including the author's creative methods and sources of literary inspiration. Click here to buy the book. Via Rosen Publishing.
Hot Off the Presses:
Volleyball magazine
Team USA volleyball players are heavily favored to rule the beach and women's indoor courts during this summer's 2012 Olympics in London. But the U.S. men's team, the reigning champions of the 2008 Games in Beijing, could lose its position as head of volleyball's royal family.
Volleyball announcers for NBC Sports recently shared with Volleyball magazine some of their predictions about the upcoming Summer Games.
Queen Elizabeth II officially will open the "Games of the XXX Olympiad" on July 27 and welcome more than 10,000 competitors from around world to this majestic sporting event this summer.
Beach volleyball promises to be the "crown jewel" of the 17-day competition, which physically and mentally challenges athletes in 26 different sports.
This year's "sand-sational" showdown takes center stage from July 28-Aug. 9 at London's historic Horse Guards Parade. A total of 24 men's and women's teams will battle for gold in the shadows of Buckingham Palace.
"I think beach volleyball is going to be the place to be for the London Olympics," said NBC announcer Kevin Wong, who will call the matches with sportscaster Chris Marlowe. "I can picture it already. Buckingham Palace is there in the background. You can see the London Eye. Prince Harry will be with the royal family in the VIP area watching the games. And maybe even the Queen."
Women's Beach Volleyball
But all eyes will be on America's queens of the beach courts – Misty May-Treanor and Kerri Walsh. They've dominated the sand and the top of the Olympic podium in the last two Summer Olympics.
Can this dynamic duo permanently etch their mark in the sand—and the Olympic record books—with an unprecedented third gold medal finish?
"Misty May and Kerri Walsh have got to be your No. 1 choice to win gold," said Wong, who made his professional beach volleyball debut in 1995. "If someone is going win gold it's got to be Misty and Kerri."
Brazilians Larissa Franca and Juliana Felisberta Da Silva are the likely silver medal winners, Wong said. This No. 1 ranked team on the FIVB Swatch World Tour defeated May-Treanor and Walsh in 2011 to capture its first beach volleyball world title.
"They've proven they can hang under the bright lights," Wong said.
China's 2008 Olympic bronze medal winners—Xue Chen and Zhang Xi—prove another pair to watch.
"They're a solid team," Wong said.
Volleyball fans shouldn't discount Italy's Greta Cicolari and Marta Menegatti from the medal hunt, either. "Italy is a young team that has done great things," Wong said. "They're one of my sleeper teams."
Another sleeper team, he said, is the Netherlands' Marleen Van Iersel and Sanne Keizer. "They can do great things."
Hana Klapalova and Lenka Hajeckova of the Czech Republic are also on Wong's Olympic radar.
"They're a team that seems to play without pressure," he said. "They seem so mellow and down to earth. I think they can play in the Olympics and not be phased."
Americans Jen Kessy and April Ross—the No. 2 U.S. team—are also poised for a huge Olympic win.
"I like to call them the big game hunters," Wong said. "They have their eyes on the big prize…they're a team that could win gold."
Is it possible the United States could have two teams vying for gold? It all depends on how the teams are seeded, Wong said.
"I don't know what the seeds are going to be. That's something we need to watch."
If it's an All-American final duel on the sand, Wong gives the tip to May-Treanor and Walsh.
"You've got to go with Kerri and Misty because of their experience," he said.